Focusing on providing a safe space for artists, activists, NGOs, lawyers and a multitude of organisations and individuals working in the field of artistic freedom, the annual Safe Havens Conference took place on December 7-9, 2022, in Mexico City. 
Prioritising the voices of artists, Safe Havens Freedom Talks (SH|FT) collaborated closely with local, regional and international organisations such as Casa Refugio Citlaltépetl, Centro Cultural Tlatelolco, Teatro Casa de la Paz UAM, Universidad Iberoamericana, Heinrich Boll Foundation, Article 19- Mexico and Brazil, Fondo de Acción Urgente, Freedom Vibes, Al Mawred Al Thaqafy, Artists at Risk Connection (ARC), Artistic Freedom Initiative (AFI), ICORN, PEN Chiapas Pluricultural, PEN International, and Safemuse.
Organised by the independent NGO SH|FT, the Safe Havens Conference is a space where actors from the human rights and arts fields are able to come together and exchange ideas, knowledge and experiences in a safe space. This year's programme was grounded in Mexico and Latin America, seeking to highlight its incredible artistic processes as well as challenges to an international audience, and focus on growing and strengthening networks with and within Latin America. Also, keeping to its global nature, there were participants and performances from other parts of the world, and certain sessions were held digitally to allow for the participation of those who were not able to travel.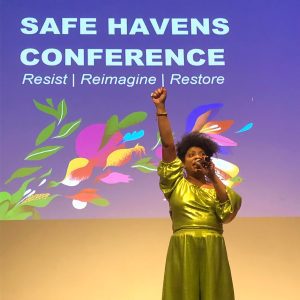 Safe Havens Conference 2022
Photo: Fredrik Elg
The programme included presentations and panel debates, "Hive" discussions, artistic interventions, workshops on core concerns like security and wellness, and cultural activations that took participants outside of the usual conference setting. Holding on to the learning we have built over several conferences and finding inspiration in the polyphony of social movements and local actors moving forward debates on the environment, racism, sexism, homophobia, and violence, we seek to chart ways for artistic freedom to Resist, Reimagine, Restore. Through the sharing of experiences and knowledge around the challenges and contributions of artists under the threats, the Safe Havens Conference seeks to contribute in the defence and strengthening of artistic freedom of expression globally.